In partnership with Barbwire Design we can offer our clients a Printing and Graphic Design Service to meet all their needs at the best prices around. We create stunning designs which achieve the results you desire.
Our dedicated team works efficiently and professionally to bring you a friendly and amazing experience. Design is at the forefront of our company, it's our passion and is very much buried in our roots.
With a degree in Graphic Design and over 23 years experience in design and small businesses. Craig will work closely with the client to ensure they get exactly what they are after, whilst ensuring that the design is functional and clear. Craig's advanced knowledge and experience with the Adobe packages particularly in Photoshop, Illustrator, InDesign and Acrobat, he can create whatever you desire.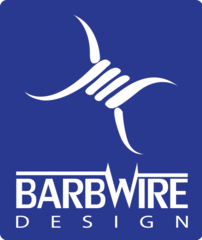 Barbwire Design Services offers great rates on design & print, here are just some of the products: